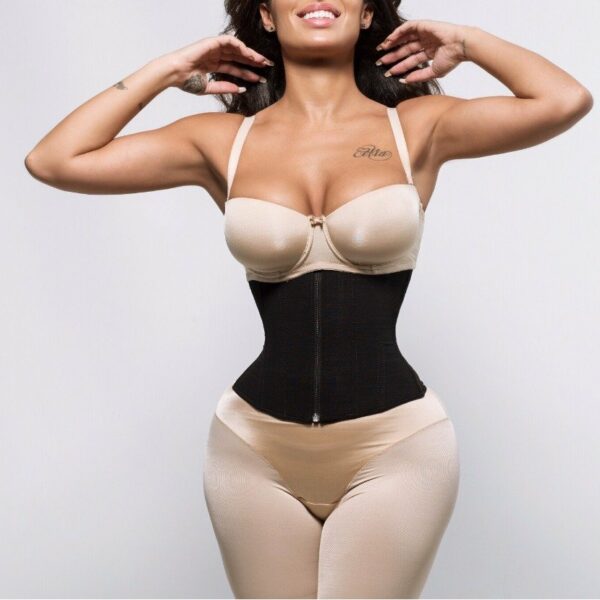 Discreet long/short zip corset
Length: between 30 and 27 cm.
Material: 76% nylon, 24% elastane.
Made in Colombia.
Description
This corset is the most recommended if you are looking for a discreet model to wear under tight clothes! This powernet corset is invisible under tight clothes thanks to its zipper that covers the hooks.
It will help you sculpt your waist by wearing it every day. Thanks to its 9 metal whalebones, it provides good back support and does not make any creases. This model is the least visible under dresses.
Characteristics :
Powernet
Nine metal whales
One row of hooks and one zipper
For everyday use only – Ann Michell Brand
Made in Colombia
Watch out! The long version of this model is shorter than the long latex version.
Approximate lengths :- Size M long: 30 cm / Short: 27.5 cm- Size S long: 29.5 cm / Short: 25 cm- Size XS long: 28.5 cm / Short: 25 cm- Size XXS long: 27 cm / Short: 24cm
Choice of the size :Take one size below your tee shirt size or refer to the table of the waist circumference.
Sizes not displayed or out of stock available on pre-order (contact us by email or phone).
Do not hesitate to contact us for any doubt via our CONTACT page.
Related products